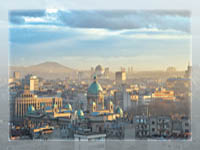 Welcome to Belgrade!
City where you can get all kinds of dental services at really low prices.
Dental Practice Dr. Aleksic Zoran was established in 1994. and it is two steps away from the historic center of Belgrade.
In Dr. Aleksic studio you receive the following services:

Services:
-Tooth fillings under local anesthesia.
-Creating capsules and bridges of porcelain with excellent aesthetics.
-Making dentures.
-Tooth extraction.
-Teeth whitening and cleaning with ultrasound.
| | | |
| --- | --- | --- |
| 1.) | White seal with anesthesia | 25e |
| 2.) | 1 Porcelain capsule | 95e |
| 3.) | Dentures | 225e |
| 4.) | Extraction of teeth | 25e |
| 5.) | Ultrasonic cleaning teeth | 25e |
| 6.) | Teeth whitening with Carbamide | 190e |
| 7.) | Operation and treatment of periodontal disease | 50e per tooth. |
| 8.) | Implants | 650e |
| 9.) | Whole ceramic crown , price per crown with Zirconium | 195e |
-White fillings are made from 3M U.S. manufacturers and always with local anesthesia.
-Crowns and bridges made of porcelain are fixed, cemented and can not be removed, they look and have a function like your natural teeth. First we scrape the teeth under local anesthesia with no pain. Time needed to create the bridge is from 3 to 5 days. On the first day we scrape the teeth and take a print, and the patient receives temporary covers that protect teeth from cold and hot, and they are free.
-If the patient's teeth suffering from periodontitis in the studio Dr. Aleksic can be done operations and treatment periodontal disease and after that making tooth bridges. The surgery is performed in the studio Dr. Aleksic, and it is done by a professor at the School of Dentistry. If the teeth waggle then we place an artificial bone that fix teth. The surgery is performed under local anesthesia and is completely painless.
-If the patient does not have enough natural teeth, but wants to wear the tooth bridge ,we can installed implants.

-In studio Dr. Aleksic, you can remove scale with ultrasound, and if you want to do whitening of your teeth we can construct two prosthesis which fills with Carbamid and then you sleep 7 nights with it. The teeth are not whitening by hydrogen therefore you will not suffer pain to the teeth or its sensitivity to cold. Prosthesis are worn 7 nights, a whitening effect lasts for 7-8 years. Prosthesis can be worn in your house.
-All kinds of services can be obtained under local anesthesia in a very short time.

-If you want a panoramic snapshot u can send mail to: Molerova 47 11050 Belgrade, or you can scan and send e-mail or we can do digital panoramic photo in Belgrade at a cost of 12e
-Before u come to Belgrade i will always do estimated price and tell you how much time you have to be in Belgrade.
-Belgrade is located 600km from Trieste and its connected with good highway. Costs of travel from Trieste to Belgrade by the Mischelin is 89e (toll road and petrol)
-The Belgrade can be reached by plane from Rome and Milan. If u traveling by air i will welcome at the airport and escort you to your hotel.
-Hotel Serbian is recommend, it has been renovated three-star hotel where bed and breakfast for two people costs about 65e. The hotel is located near the house of Dr. Aleksic
-Price of a meal in Better restorant in Belgrade is near 10-15e per person.
-Rarely Dr. Aleksic, need more than 7 days for u to spend in Belgrade.
You can contact Dr. Aleksic by phone:
cell. : 00381641104082
studio : 00381112433943
home : 00381112830127
adress : Molerova 47 11050 Belgrade
or by e-mail: johnny6761@gmail.com
-So welcome to Belgrade, welcome to dentista economico Dr. Aleksic, where you can solve all your problems with your teeth as soon as possible for very little money ,and at the same time you can spend beautiful time in Belgrade because it is a beautiful and hospitable city.
-Dr. Aleksic speaking Italian and English, and his father has Italian citizenship, speaks Italian, and while u are in Belgrade he can offer his services to u free with his car.


Best regards Dr. Aleksic Zoran!